Paint-Poems-2014-I
(click to enlarge)
"I Stole This."  11 x 14, mixed media.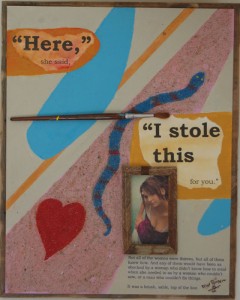 "Not all of the women were thieves, but all of them knew how. And any of them would have been as shocked by a woman who didn't know how to steal when she needed to as by a woman who couldn't sew, or a man who couldn't fix things.
It was a brush, sable, top of the line."
"I Stole This" #2.11 x 14 mixed media on collage board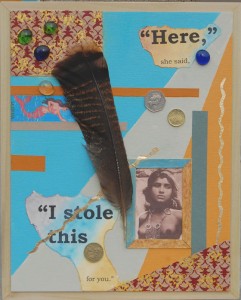 "Quail."  12 x 16, mixed media.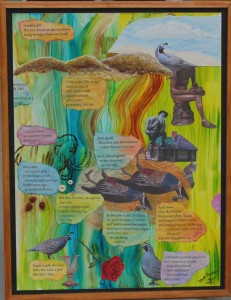 Two quail that flew into the window when the sun was low:
both placed gently on the doormat by our cat.
Not, we know, an essential matter. But yet.
Thus rites and grave gifts—15,000 hours worth of beads and carvings 30,000 years ago in northern Russia.
Not like, to wear, as a ghost, but just to make things right,
a gift, a balancing, a medicine, like this.
It was a gift, she said, here, she said, a gift:
this one's free.
& this one is old, it's used, it's paid its dues, it's done,
and here's some free paper, mice have chewed the edges,
so it's free also—do anything with it.
Add some blue sky maybe, and some white clouds
and Joaquin Miller's cabin and maybe Joaquin Miller too.
And some quail, that gift, the quail that she brought to us.
Add some ground pigments, and some sand dunes
(you liked them) for a valentine and a rose.
"Sasha." 11×14, mixed media.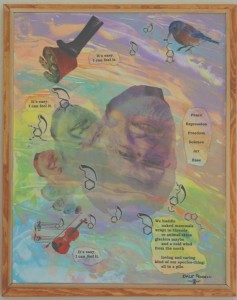 We huddle,  naked mammals wrapt in threads or animal skins
glaciers maybe and a cold wind from the north
loving and caring–kind of our species-thing: all in a pile.
Peace/Expression/Freedom/Science/Art/Ease
It's easy.  I can feel it.
It's easy, I can feel it.
"Hey Kid." 11 x 14, 8 x 10, mixed media on boards and stake.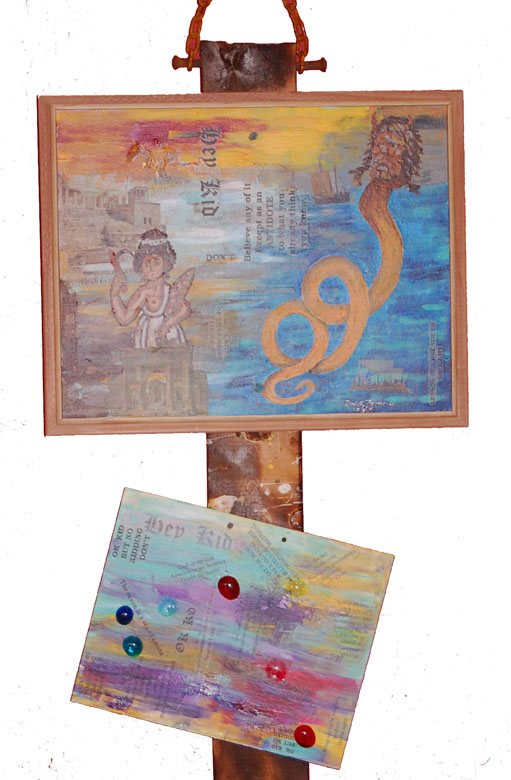 Don't Believe any of it Except as an ANTI-
DOTE
to what you already think you know.
LESSON IN A DECADE OF DROUGHT
AND LIKE I SAID KID—
TAKE A BITE OF THAT THERE APPLE
***
OK  KID BUT NO KIDDING DON'T
Hey Kid…God, or no God, America, or no America, Doubt, or no doubt
OR ESSENCE/OR AGNOSTICISM/OR TRADITION/OR INNOVATION
OR THAT THE WORLD WAS A BIG BANG OR IS LEVELS OF ANGELS OR IS OBJECTIVE MATERIAL
oh yeah, and art or poetry or survival or the Future or, as before, their contraries
LISTEN KID (or maybe don't)
HAPPINESS/MONEY/SUCCESS/FULFILLMENT/TRUTH/BEAUTY
OR THEIR CONTRARIES
Rx: Bring our most insidious to share (in the light)
"Lay the axe to the root And teach government humanity."
—T. Paine
Hey Kid—"You have been born into an insane asylum."
–Timothy Leary
By the time you read this, O Future Child, the questions ought be clear, if the solution, not.
"Mona." 16 x 20, mixed media.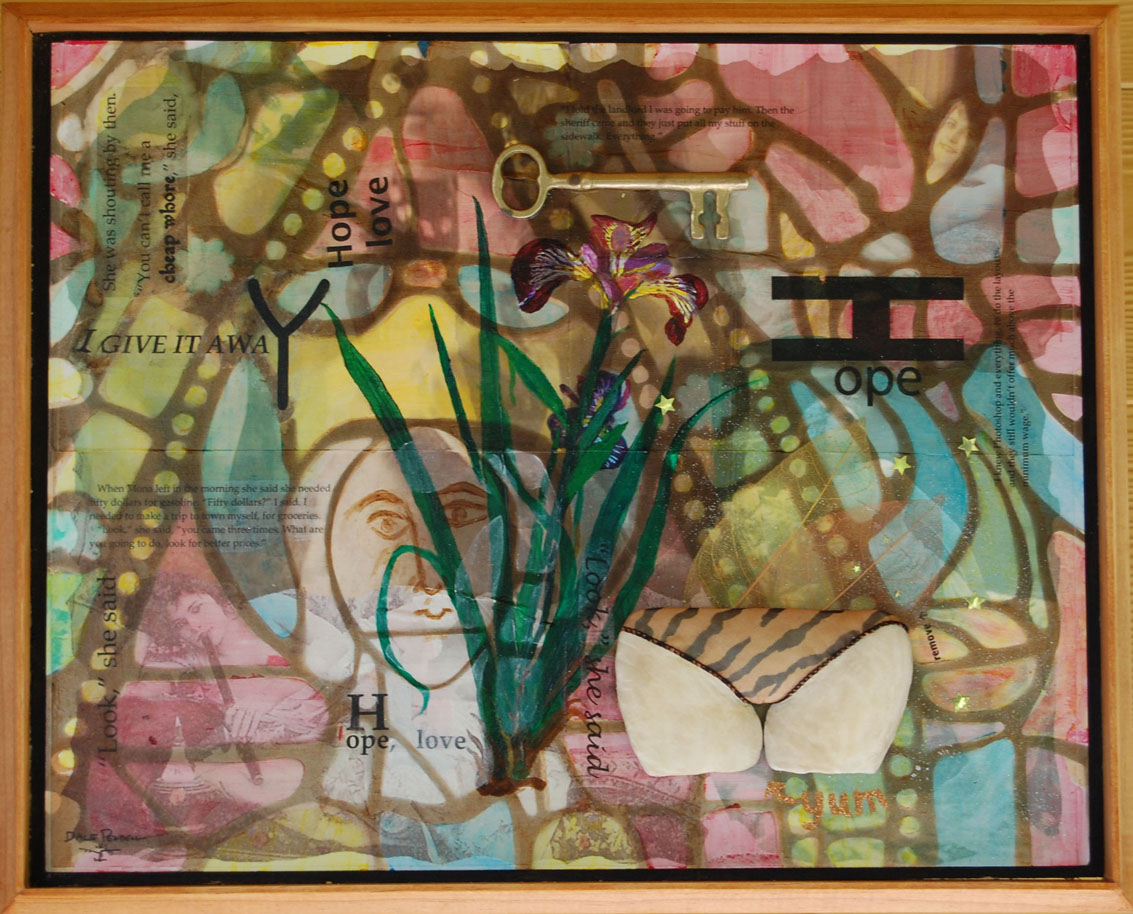 When Mona left in the morning she said she needed fifty dollars for gasoline. "Fifty dollars?" I said. I needed to make a trip to town myself, for groceries.
"Look," she said, "you came three times. What are you going to do, look for better prices."
I told the landlord I was going to pay him. Then the sheriff came and they just put all my stuff on the sidewalk. Everything.
I knew Photoshop and everything, to do the layouts, and they still wouldn't offer much above the minimum wage.
"Look," she said.
She was shouting by then. "You can't call me a cheap whore," she said, "I give it awaY."
H ope,   love.
"Bruno." 24×33, mixed media (sand, broken glass, .30 cartridge casings, human hair, blood, pine boards, collage, roach poison) on plywood.
"not worth it/     worthy of/ not/ Kurtz/ horror"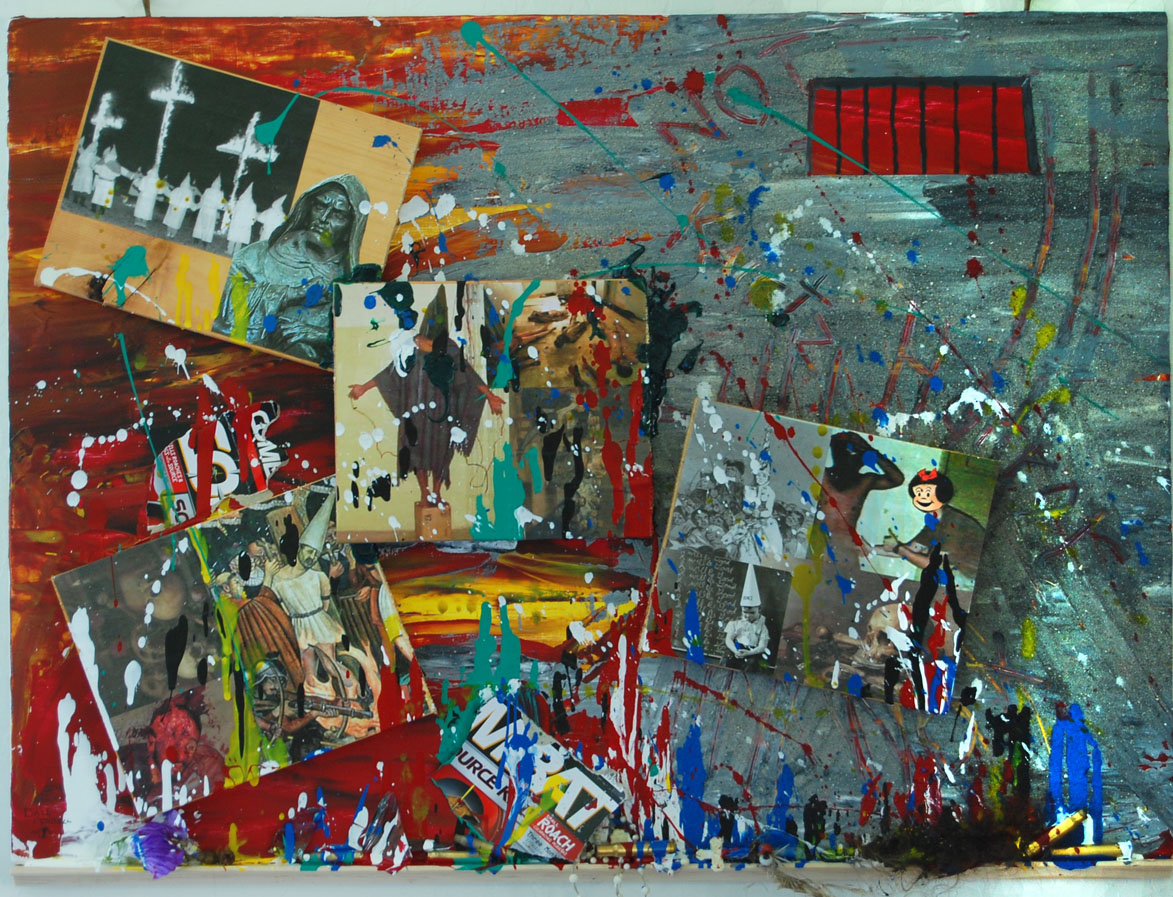 "Dionysus: I'll lock you in prison." 16 x 20, mixed media.
[U.S. prisoner statistics; drug prisoner statistics.
Euripides quote: "I'll lock you in prison."]
"I'll lock you in Prison #2." 16 x 20 mixed media.
The country called the United States of America has five percent of the world's population but twenty-five percent of the world's prisoners, with more people in prison than any other nation, both in total numbers and by percentage of its population.
Hence, they call themselves
"The Land of the Free."
[Euripides quote: "I'll lock you in prison." Prisoner statistics.]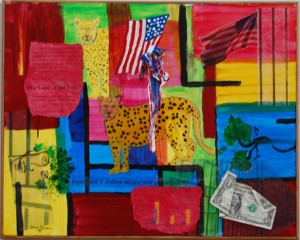 "To Do." 8 x 10 mixed media.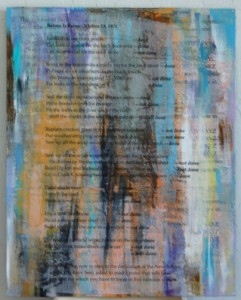 Before It Rains: October 13, 1975
Linseed oil the front porch             —done
Get load of gravel for the back door area —done
Cut more wood for the cook stove     —not done
Bring in the manzanita already cut for the cook stove —done
Put new shock absorbers on the truck, check
the prices in town against J.C. Whitney     —not done
Fix leaks in the tool shed roof             —done
Seal the stove pipes around the roof jacks —done
Write book reviews for money           —not done
Fix the leaks in the floor under the bed;
stuff the cracks in the walls with oakum—this all done
Replace cracked glass in the bedroom window         —not done
Put weather-stripping around the back door         —not done
Saw up all the scrap wood lying around the back porch —done
Saw up all the scrap wood lying around the garden, along
the driveway, by the outhouse, and next to the tool shed     —not done
Read Ogden and Richard's The Meaning of Meaning         —not done
Go to Class K housing hearing at the Supervisors in town     —done
Plant shade trees             —done
Trench the road             —done
Write a novel             —not done
Dig a new out-house         —not done
Build a new storage shed         —done!
Build shelves in the new storage shed —not done
Put new windshield wiper blades on the car —done
Replace front brake shoes on the car     —not done
Fix car radio                     —half-done
Find something new to take to the dedication of the New School,
where you have been asked to read a poem that tells how
it is, and for which you have to leave in five minutes —done.
"Heat Spell." 11 x 14 acrylic.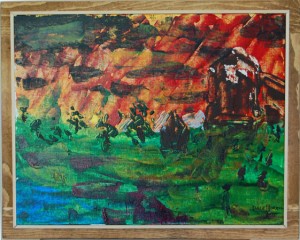 .