Pharmako/Gnosis
Plant Teachers and the Poison Path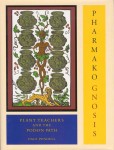 This final volume covers the visionary plants: the contemporary uses of plant poisons, historic cultural lore, and shamanic rites.
"If Homer had been a drug connoisseur, his epic poems would have sounded like this. . . . Pendell may be America's answer to Blake, Coleridge and Wordsworth."
— Emily Green, Los Angeles Times
"Essential Reading, a Modern Classic"
— Stephen Silberman, Wired Magazine
"A beat alchemist working textual DJ decks."
— Erik Davis, Book Forum
"!?#*! beautiful."
— Dr. Alexander T. Shulgin
Reviews
Faustroll's review on erowid:  http://www.erowid.org/library/review/review.php?p=205
Now available in hardback.