Marched with the Pussies in Sacramento
Marched with the Pussies in Sacramento
In a sea of pink caps. SOOO beautiful!
It made me feel SO good that I cried.
I must have looked directly into over a thousand faces
and they were all beautiful.
The whole gathering and march was filled with joy. Fairly quiet too:
very little shouting or chanting. Just some 30,000 people of all ages and sexes
very glad and grateful to be with each other.
Hooray!
And, apropos of whatever:
BTW, remember that Vladimir Putin put Pussy Riot in prison.
BTW, you Buddhists, remember that impeachment is compassionate action.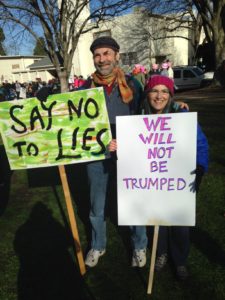 Leave a comment
cforms contact form by delicious:days
---
Archives